Monserrate and I - Emma Gilbert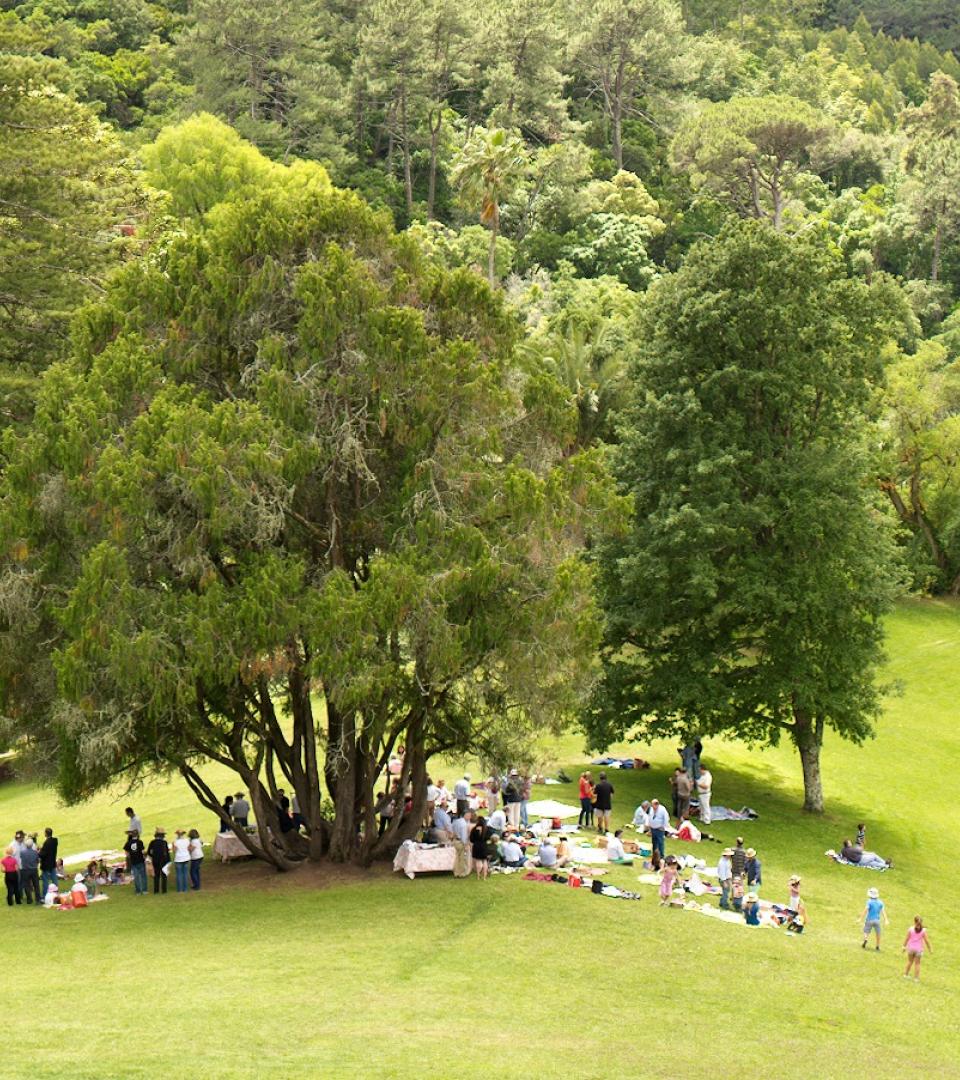 Monserrate and I - Emma Gilbert
"We make a living with what we do, but we make a life with what we give" so said Winston Churchill.
Monserrate gave me the opportunity to give and for a cause close to my heart. As children we often went to Monserrate for picnics or walks. A great game was to see who could roll further down the lawn. Getting up totally dizzy made it even more fun. However I came under Monserrate's spell later in life, in my 50's, when I was invited by the then British Ambassador Hugh Arbuthnott to head the Friends of Monserrate. Slowly but surely the magic worked. I fell in love with its beauty, abandoned and in ruins though it was. It changed me. I became a different person, more passionate and with a greater enthusiasm for life. To some people's astonishment I even rolled down the lawn forgetting I was fifty not five. Yes, Monserrate took over my life. 
Responsibility of this site was shared between 4 different government departments: Forestry, Culture, Environment and the Sintra Municipal Council, all of them in total disagreement with each other on policy and or finances. For over fifteen years The Friends fought tooth and nail for Monserrate's restoration not caring whose toes we sometimes (often) trod on. Happily, it was not in vain. Now it is blossoming into a new different beauty. From the beginning the Friends battled with the ideal that Monserrate should have one sole entity responsible and more importantly accountable for the running of this unique Quinta. This has finally come about thanks to Parques de Sintra – Monte da Lua and its President Prof. António Lamas. Now more and more visitors come and enjoy the "soft peace" and lushness of Monserrate with its exotic pavilion. A re-born garden is the best of all windows into the past.
But Monserrate wants more, needs more and it will give back a thousand fold if this "more" is forthcoming.
Monserrate cries out for big for parties, joyful social gatherings, concerts, plays, games, land art, children rolling down the grassy lawn shouting and laughing, as well as peaceful walks round its romantic gardens with birdsong and gurgling water. As an Association we tried to give the example by the numerous and varied events we organised. The "Hands On" held the first Sundays of the month was the first, with the young and elderly vying for work. Terrifying sometimes, especially when a young lad from the local village got hold of the pruning shears pointed them at me and cried "Where can I start?"
Monserrate is also the ideal meeting point for cultures from all over the world. It was built in that spirit. Nowadays "Fusion" is the fashion. But the Cook family had already put it into practice in the mid 1800's. Most Monserrate residents were in general ahead of the times.
My dream is that the sound of music permeates the house, like it did before – with young pianists coming to practice in the music room, as well as internationally famous musicians bringing it to life, with music from all over the world. I am happy and proud to say that, since my family were not appreciative of my musical talents, my Grandmother's Steinway will have the home it deserves: Monserrate's music room.
Hopefully the library will be filled with books and people who want to spend an afternoon researching or just simply enjoying a quiet time looking through gardening/history/poetry, you name it, books. Creativity and imagination are needed to develop a dynamic and interactive relationship to bring Monserrate alive again.
At the official launch in January 1994, the Friends of Monserrate were a ground breaking institution in Portugal. Due to the dictatorship, which ended with the 1974, 25th April Revolution, associations were not encouraged for fear of left wing political activities. To my knowledge only the "Bombeiros Voluntários" (Volunteer Firemen's Associations) managed to succeed in those days. So we were looked at askance by many, especially government authorities who did not work together and did not encourage our work either.
With persistence and friends in high places, The Friends grew in visibility, appealed to people of all walks in life and nationalities and was, despite many setbacks a great success. Monserrate leaves a mark on anyone who takes an interest in it! To name but a few: Byron, H.C. Andersen and Bocage showed in their writings they felt the same way.
The Amigos de Monserrate took off with a flying start. The guided tour for the Honorary Committee to Monserrate in October 1993 organised with the purpose of harnessing the enthusiasm of such luminaries of Portuguese society as the Duke of Brangança, the Marquesa de Cadaval, Prof. Fernando Catarino, charismatic Director of the Lisbon Botanical Gardens, bankers, government ministers, Fundação Oriente, complemented by the British Ambassador and Lady Cook, was followed with a tea at the nearby "Quinta" of the Condes de Moser. Most still remain Members. No mean feat.
On arriving at the official launch of the Friends of Monserrate held at the British Residence, Portugal's President, Dr. Mário Soares, took my arm and confided: "Who in fact owns Monserrate?" To his surprise I replied: "It is ours Mr. President, yours and mine".
We tried to pass on this message by organising guided tours and giving talks both in Portugal and in England. Mastering the art of holding an audience interested was not an easy job. At the end of a talk to a school in Lisbon's industrial belt, I asked the 60 odd teenage students if they had any questions. Total silence. I insisted. Suddenly a voice pipes up "Can we go now?" Zero points for communicating. However, later, after they came to a guided tour, another test, they left so happy and enthralled we received Christmas cards signed by many for a number of years.
I had the good fortune to have friends in the Portuguese and foreign press who whole heartedly backed this venture and not only for the bad news, (typical journalists!) Monserrate's neglect and ruin, but funnily enough for the good news too, and they did a good job.
The media really knows a good story and Associated Press was no exception. The first donation to the Friends came from my boss the AP President, an encouraging sign of support. This was followed by Price Waterhouse and then KPMG and their staff whose accounting and financial work could never ever have been paid in escudos or euros – the Friends would cease to exist – we all know how much they normally charge. Bankers are not normally generous either but with examples shown by the British Embassy, the Portuguese President, the Luso American Foundation and Rothchilds, Barclays Bank followed suit and cut their charges.
But it was the people behind these institutions that made the difference. The Friends can boast of generous, competent, loyal, hardworking and honest Members throughout the years, who gave without expecting any returns except the pleasure they had in giving. Sponsorships and support came from the most unexpected quarters. The rose garden is a living example, hundreds of roses are being planted this year. And from expected ones too like my family. Here the words for better or for worse took on real meaning. The Friends of Monserrate would not have had a President for all those years: without my husband's generous, though sometimes grudging, support I would have given up. To them all I owe the longevity and may I say so, success of this adventure and I do mean adventure not venture. 
I have to confess I have had an unfair advantage. I was born and raised in Sintra and that does, strangely enough, predispose me to love this part of the world. Mists included. When you love someone or something giving comes easily.
Sintra, 21st March 2010