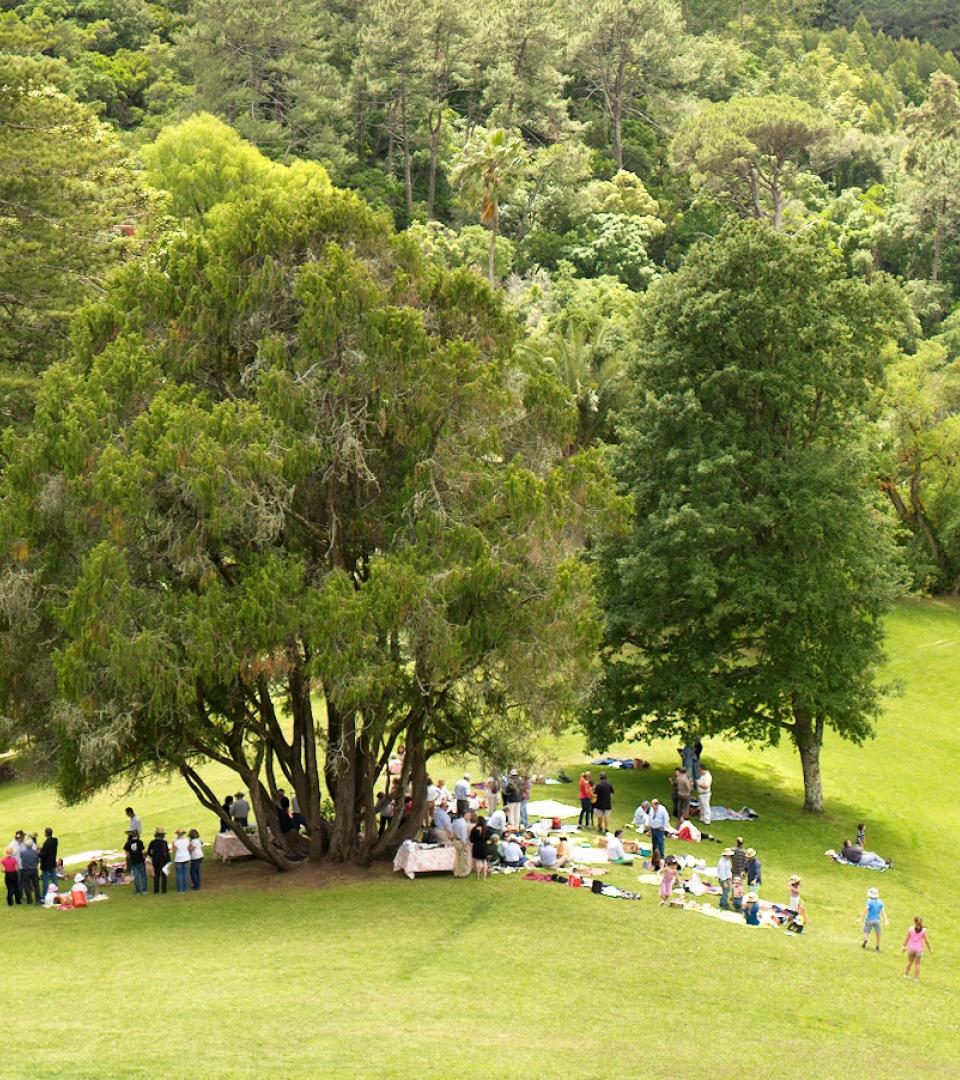 Monserrate Rose Garden
The restoration of the Rose Garden is the most important project currently being undertaken by the Friends of Monserrate.  It is situated in one of the three main valleys of the Garden, the other two being the Fern Valley and "Mexico".
 
The project began in 2004 when a protocol was signed with Parques de Sintra-Monte da Lua, S.A..  Originally planted by the Cook family, in the 1860's, the Rose Garden was in a state of total neglect and impenetrable, completely covered with invasive acacias and brambles. 
Our first step was to clear the ground by hand since the use of heavy machinery could have destroyed surviving rose species as well as traces of the original landscaping.  During this work we uncovered the original paths, watering system and some rose bushes.  
Following the clearing, a topographical study of the area was conducted in order to provide a basis for the restoration.  This was led by Landscape Architect Gerald Luckhurst according to intervention principles for historical gardens, avoiding excavations so as to maintain the original form of the land and the design of the original flower beds, as well as recovering the paths, integrating them in harmony with "Mexico" and the lawn, so that in the future visitors can easily appreciate Monserrate's contrasting variety of landscapes.
 
Once the final clearing of the land had been completed, we planted the first rose bushes in December 2004. Due to the lack of an irrigation system, volunteers watered the original rose bushes, by hand, as well as the newly planted ones during the summer season, enabling them to survive. The clearing work had to be repeated over a period of several years due to the invasive nature of the acacias.
 
The final project entailed planting many different varieties of rose bushes all predating 1920, with different periods of flowering, including some documented as having previously existed in Monserrate. We have also planted some recent rose varieties, of Indian origin. These are hybrids of Rosa gigantea, the parent of the Portuguese roses, such as the famous 'Bella Portuguesa', raised in the early twentieth century at Lisbon Botanic Garden. 
 
 
This project has been made possible thanks to many donations from individual Friends of Monserrate, membership dues and funds raised through events organized by the Association.