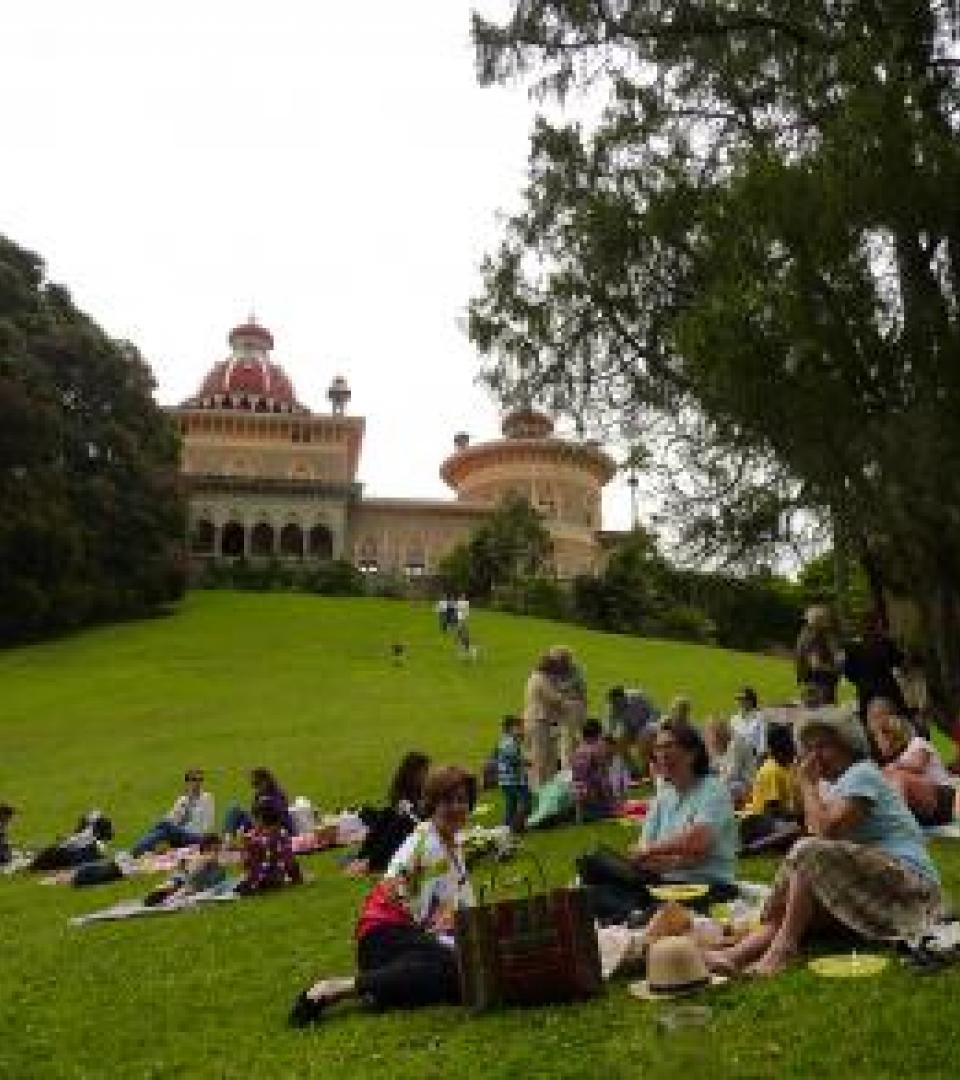 Picnic at Monserrate
 Let's have another round of applause for the Amigos de Monserrate and the organisation of their picnic on Saturday, 16th June.  I was told that the last picnic in Monserrate had been arranged by the Amigos twenty years ago.  Last Saturday a wide range of events were on offer: raffles, children's games and even a best flowery hat competition.  Not to speak of wicker baskets full of food and drink, good red and white wine and a fabulous chocolate cake, a very old recipe, that was handed around in a small metal box and melted in one's mouth.  And I didn't only speak about the weather, always marvellously uncertain there.  I spoke with the Amigos about the ineptness of the new spelling reform (who needs another bone of contention?  Not I!), about new global ways of publishing books through the Internet without paper editions (I've still got to get used to it!) and about the salutary partnership between civil society and the state (vibrant here and now!).  Monserrate and wonderful places like it belong to all of us and they should be active cultural organisations that people may enjoy.
I was delighted and honoured that I could influence the jury's decision.  The best flowery hat was undoubtedly that of Paula Saraiva e Sousa!
And I was also delighted to have reached the top of the lawn right next to the Palace and looked back to see the age-old tree: more than fifty years ago, while still a child, I had taken part in similar picnics, as I wrote in L'Heure Exquise (Newsletter No. 5, Associação dos Amigos de Monserrate).
Beautiful renovation work has been carried out on the gardens in the lower area as well as the newly restored water lily pond.  One of these days I will write a poem in praise of Gerald Luckhurst and it will be about this historic garden, these water plants … and bring to mind Monet's painting.
There were over fifty of us at the picnic and not a single cigarette butt, scrap of paper or soft drink bottle top was left on the lawn.
That what the Amigos de Monserrate are like!
Julieta Almeida Rodrigues