Sir Christopher Cook's visit to Monserrate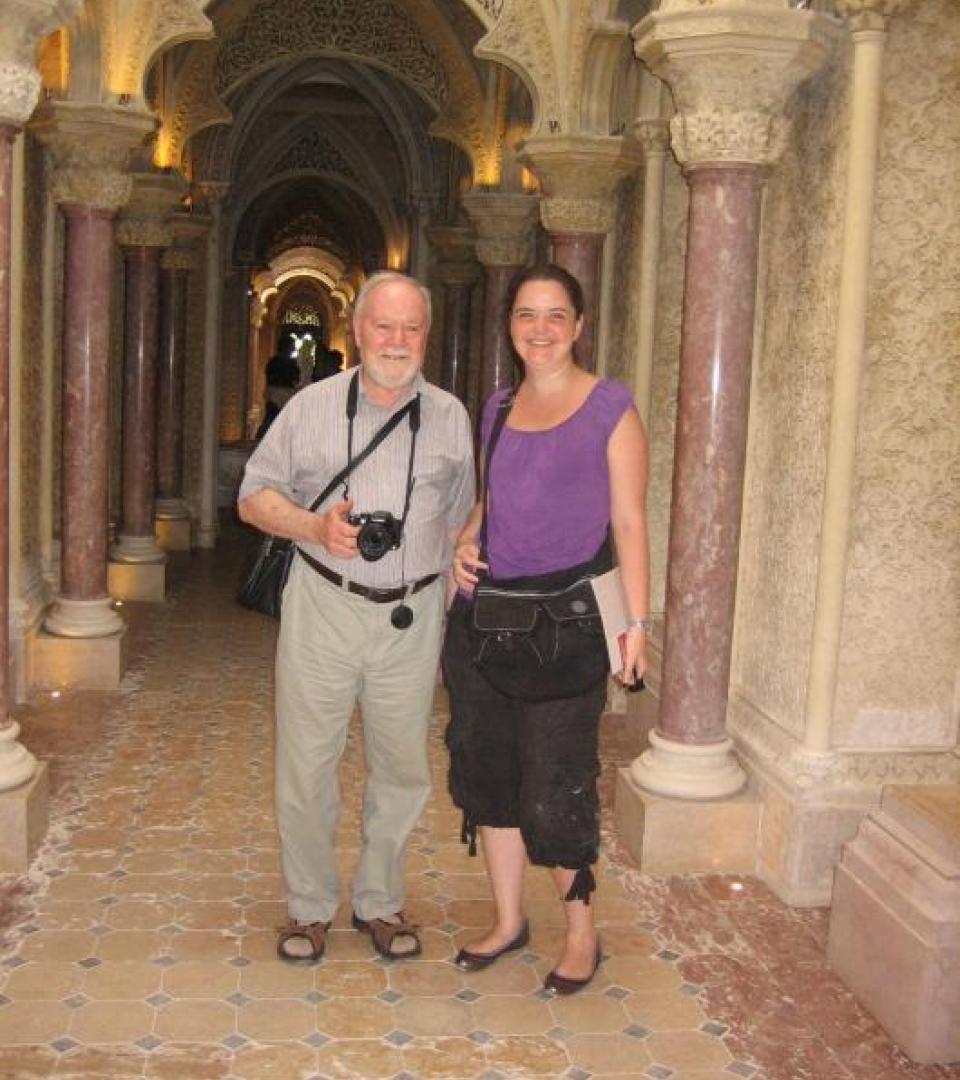 Sir Christopher Cook's visit to Monserrate
Great news! Sir Christopher Cook, his wife Margaret and daughter Caroline came at long last, this August, to visit Monserrate,.
Members of the Friends of Monserrate (Clive and Emma Gilbert) and Parques de Sintra staff (Prof. António Lamas, Landscape Architect Gerald Luckhurst,  Head Gardener Tim Stretton, Architect Luísa Cortesão amongst others), warmly welcomed Francis Cook's descendents.
Sir Christopher was most impressed "we loved the feel of it and felt as if we had 'come home' and cannot wait to come back."  What more could anyone ask for?
And what better time to come visit Monserrate?  During the last three years Monserrate has truly taken off.    Years of meticulous and tasteful restoration in the Gardens (Mexico, the lawn and the rose Garden to mention but a few) and the Palace (the library, the dining room, technical gallery, the kitchen) have changed Monserrate from a lack lustre abandoned site to a colourful and vibrant Garden and Pavilion. 
Sir Christopher remarked that the Indian room, as yet not restored and where part of the ceiling had fallen was very interesting to see.   He felt the contrast between the rooms, already restored, and those that still show the ravages of neglect make it easier to understand the building's history.  He even suggested that the room could be left as it was thus showing its less glorious past as well as the building techniques, seen through the gaping ceiling, used in the 19th century. Naturally a detailed explanation of the reason for this decision would have to be laid out for the public.
At the end of an enjoyable 3 hour visit, Prof. António Lamas received the visitors in the tea room where they exchanged ideas about the past and the future in delightful al fresco surroundings.
Sir Christopher Cook contacted the Friends of Monserrate last April asking for help in finding documents on his family connections in Portugal, namely copies of his great grandparents' marriage certificate.   We gave him the contact of Rev. Michael Bullock, Church of England Chaplain at St. George's Church in Lisbon, where we were sure he would find what he was looking for.    We also invited him and his family to come and visit his ancestors' home.   In his letter of thanks, Sir Christopher said he was delighted he found more than he was looking for in the Church's archives.   In fact, he said, "there is a possible treasure trove of Births, Marriages and Deaths of relatives" that could lead to more information on Monserrate.
On the way out I showed Sir Christopher the building where his Father used to paint.  Even though it had been used as a huge birdcage we could still understand why Sir Francis chose to paint there.  The Northern light was perfect. It was Monserrate's  tender farewell to Sir Christopher Cook.