Receita - Fish in a Bag (Jamie Olivier)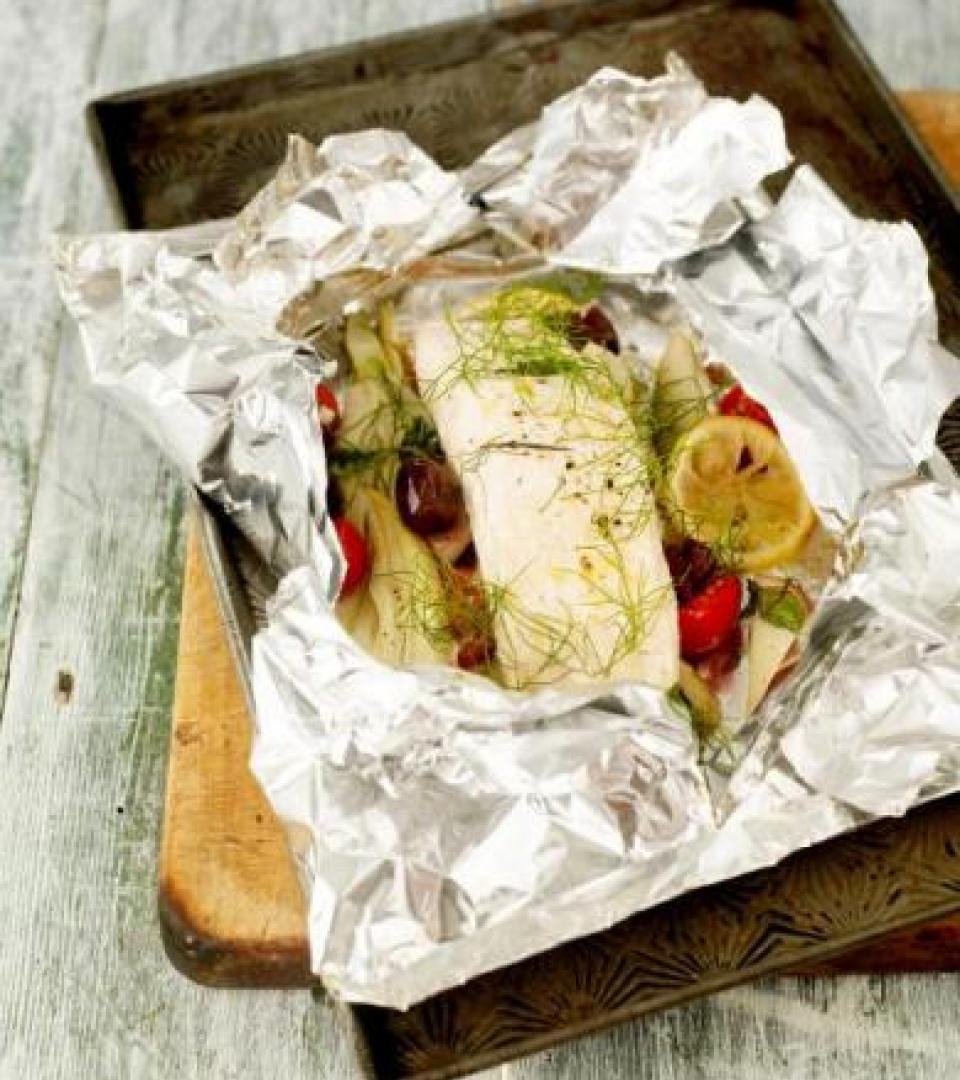 Receita - Fish in a Bag (Jamie Olivier)
FISH IN A BAG (JAMIE OLIVER)
1 free-range egg, beaten
100 g waxy potatoes
½ bulb fennel, trimmed and cut into wedges, frond reserved
½ lemon, finely sliced
5 cherry tomatoes, halved
1 drizzle olive oil
1 handful pitted black olives, halved
120 g firm fish fillet, such as haddock, halibut or salmon, from sustainables sources, ask your fishmonger, skinned and pinboned
sea salt
freshly ground black pepper
1 splash white wine
Read more at:
http://www.jamieoliver.com/recipes/fish-recipes/fish-in-a-bag/#6MLTXyvvu9PwTH7f.99
I love cooking fish in a foil bag and have been doing it for years. It's a great way of cooking – it's healthy and, by keeping everything in a little bag, the flavours are beautifully intense. You can prep this in advance – but don't forget to write your loved one a little message, plus some cooking instructions, and attach it to the foil. A lovely thing to find waiting for you in the fridge.
Bring a pan of salted water to the boil. Make a bag out of wide foil by tearing off a piece 35 x 45cm in size and folding it double. Fold three sides up, sealing it by brushing a little beaten egg onto the edges before you fold. Leave one side open.
Cut the potatoes into quarters (large potatoes into eighths). Drop them into the boiling salted water and cook for 6 minutes. Meanwhile, place the fennel, lemon slices, cherry tomatoes, oil, olives and fish in a large bowl. Season and gently combine.
Drain the potatoes, cool and add to the bowl. Mix everything together, scoop into the foil bag and sprinkle on the fennel fronds. Seal the remaining edge loosely and write the cooking instructions on it with a marker. Pop the bag in the fridge – it'll keep there for a day or two.
All your partner needs to do, is heat the oven to 200ºC/400ºF/gas 6, unravel one side of the bag and pour in the wine. Reseal the bag, place on a baking tray and cook for 18 to 20 minutes (if the piece of fish is quite thick, it'll need 25 minutes). Once cooked, place the bag on a serving plate and gently pierce to release the steam. The tomatoes and wine will have made a delicious sauce. Lovely with some steamed broccoli or green beans.